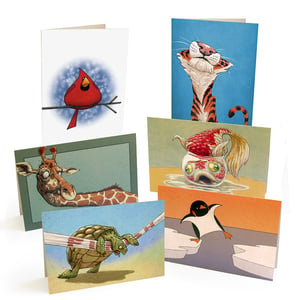 $

5.00
The Daily Zoo Notecards
Variety Pack
• 6 cards total (4x6 inches) with envelopes
• 1 card each of:
- Drop of Cardinal (day 011)
- Giraffe (day 063)
- Penguin (Ambition - day 146)
- Goldfish (Stuck - day 173)
- Tortoise (Finished at the Finish - day 365)
- Tiger (Content Kitty - day 466)
• Cards are blank inside
If you are one of the few remaining people in this world who still likes to send greetings and goodwill through physical cards rather than cyberspace, you'll love these Daily Zoo notecards.
Also for sale are sets of a single design (6 cards of any one of the designs listed above).
Individual notecards are available for $2.00 each.