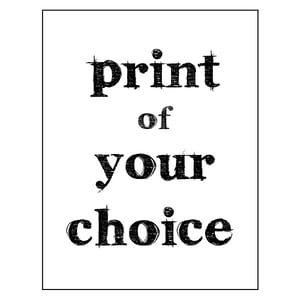 $

10.00
The Daily Zoo Custom Print
5 x 7 inches $5.00
8.5 x 11 inches $10.00
12 x 16 inches $15.00
Make your walls smile by adorning them with characters from The Daily Zoo! Prints are high-quality inkjet reproductions of the original artwork printed on heavy-duty matte paper.
Each print is individually hand-signed by the artist.

Prints are custom-made for you and can be of any of the characters in The Daily Zoo books. Add this item to your cart and then send an email to [email protected] specifying the title and Daily Zoo day number of your choice (i.e. Blue-footed Booby, day 001). If you do not have the books on hand, some samples of the Daily Zoo characters can be found here.